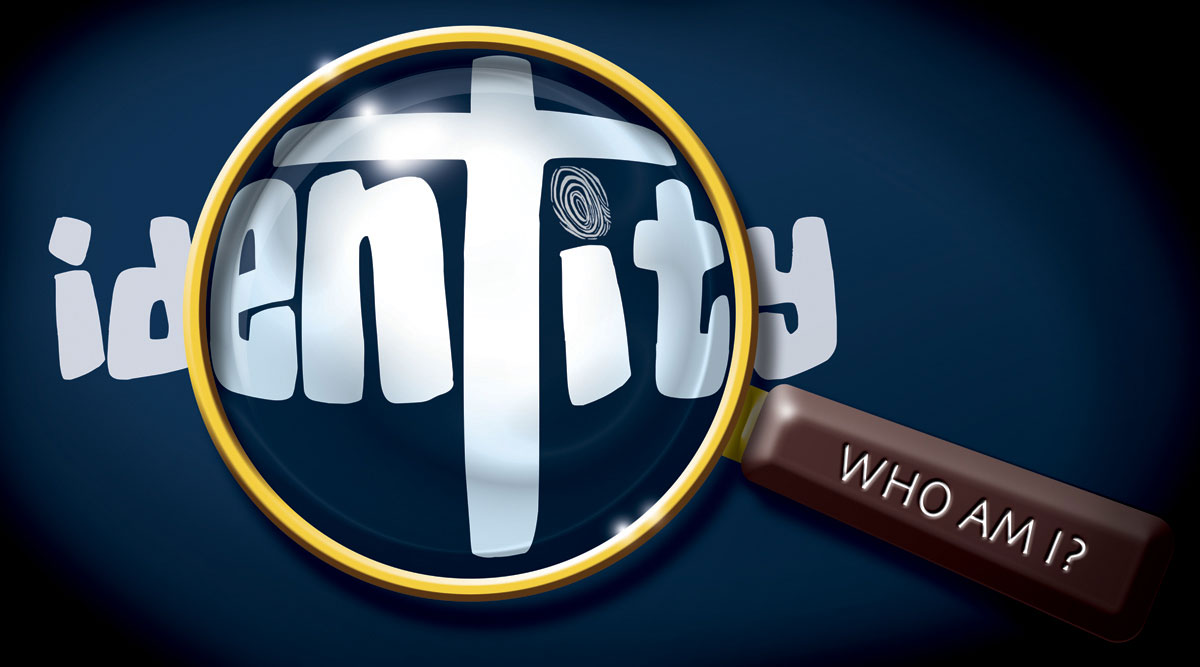 There's been a lot of talk about "identity" in culture. Whether that is found in "identity politics" or the seemingly never resolved church discussion about "sexual identity." We are so consumed with identity that we are very vocal about who we are and who we are not! It is a sad state of affairs when a Christian sees or experiences hate being spewed by another Christian and must inform their friends and acquaintances, "Oh, I am not that kind of Christian." A friend of my wife recently made a statement like that to her, forgetting that Rachel is married to a pastor.
What do we do when we see or meet other people- if we are not careful? We make snap judgments about them based what is important to them… you know, their identity. It is easy to label someone based on very little. "Oh, they are (fill in the blank)." Instead, we should take the time to get to know a person as an individual.
It totally bums me out that Christians have to differentiate themselves from other Christians who claim the same faith in the embodiment of God's unconditional and sacrificial love (Jesus) yet most of their personal theology is all about who God is against while subtly reinforcing the notion that they are good in God's eyes. Life was simpler when we (Lutherans) would distinguish ourselves by saying, "Well, were definitely not Methodists or Roman Catholic, we are somewhere between those two."
This is not contained to just in religious matters. In the highly partisan environment of politics we are in right now, I have heard people say to me, "I am not sure I can be friends with a person who supports 'that'."
I am not telling you anything you don't already know. I would not be surprised if the topic of identity is upsetting at this point.  I can hear people saying, "Can't we stop talking about this?" "Aren't we making it worse, by talking about this stuff so much." No, we aren't making worse by talking about such things. We make it worse when we fight, shout and demonize others. Besides, when has ignoring an issue ever made it better?
I think it is easy to be nostalgic, if not naïve, to say things like, "This wasn't an issue 50 years ago." Actually, it was an issue, we just didn't talk about it and used social pressure root out those who wanted to talk about these things. Just because we didn't talk about things doesn't mean there was unity. No, it meant we kept things to ourselves in fear of being ridiculed or ostracized. A lack of constructive dialogue on difficult subjects does not equate to harmony.
For those who long for the "good old days," it may have been good for you but certainly not everyone.
Is there a way forward? Absolutely. The last two weeks, I have talked about how to change the way we think (developing a Christian mindset) about things based on Paul's writings found in Romans 12. Essentially, one of the ways to change the way we think is to change what we are putting into our brains (social media, news, etc.)
Here are those two messages (if you are interested):
https://benbergren.com/sermon-transformation-explained/
https://benbergren.com/sermon-transformation-explained-part-2/
As hard as change can be, I have good news. Seriously. What I am about to share with you will change the way you think about others, even though these words were written 2000 years ago. It has everything to do with identity.
You are all children of God through faith in Christ Jesus, for all of you who were baptized into Christ have clothed yourselves with Christ. Galatians 3:26-27
 If you are a Christian (I am assuming you are), you only have ONE identity that matters: You are a child of God. More importantly, when we look at other Christians, we should see only ONE thing—a sister or brother in Christ. No more worrying about other people's identity or what they stand for or against. St. Paul tells us we have ONE identity as Christians—we are children of God, period, the end.
We don't have to spend needless hours getting worked up about other Christians identities and they don't need to get all worked up about us. We just don't. We still need to be concerned over hateful, divisive language and actions. We should always act to end such behavior within the church and in the world.
Paul in his letter to the church in Ephesus says this about being a child of God (and being in the family of God).
Be kind and compassionate to one another, forgiving each other, just as in Christ God forgave you.  Be imitators of God, therefore, as dearly loved children and live a life of love, just as Christ loved us and gave himself up for us as a fragrant offering and sacrifice to God. Ephesians 4:32-5:2
 Instead of getting worked up, we are encouraged to be sympathetic, empathetic and let things go, i.e., forgive. If we engage in living a life of love the way Christ did, we don't have time for hate. As a matter of fact, hating is so contrary to the message of Jesus that I can't imagine a Christian hating groups of people or individuals based on identity differences of any kind, let alone within the Christian community. That in itself is contradictory since we are instructed only to see each other as children of God.
Hate is destructive. Hate breaks community. Hate only attracts hate or its offspring of: fear, suffering and violence. Instead, we commit ourselves to love and only seeing others as children of God. To put another way, we are all in the same family and we should attempt to get along. If you have ever been to an awkward Thanksgiving dinner because of who was invited, you understand the encouragement and necessity for everyone to get along and love each other.
And yes, "it takes two to tango." This is not just an encouragement for those who already love to be kind those who hate. This exhortation is for those who hate (for any reason) to change. Otherwise the church ends up being like a dysfunctional family that allows the angry hateful person to dominate while the loving person makes excuses for poor behavior.
Paul is so convinced that our only identity as Christians is that of children of God, he doubles down.  There is neither Jew nor Greek, slave nor free, male nor female, for you are all one in Christ Jesus.  Galatians 3:28
 Whoa. Paul dismantles all the major "identities" of his time. Characteristics that people used to oppress, discriminate and treat poorly. It is clear (by Paul's words) that within the church, differences in gender (in its various physical and relational complexities) are nonexistent as well as social structure and ethnicity. The only thing God sees when he looks at us is that we are His beloved children. God asks us to do the same when we look at each other.
Of course, this is pointing to a larger reality of God's Kingdom. Any dichotomy we can imagine that separates people within the church—doesn't change God's view of us and how we should view others. Whether it be: Married, single or divorced, white or black, republican or democrat, brown eyes or blue eyes, Lutheran or Presbyterian! These things (or anything) doesn't matter to God and they shouldn't matter to us either.
Instead let us love each as brothers and sister. And if we pursue this… "we shall overcome, someday."
From one child of God to another—I love you.