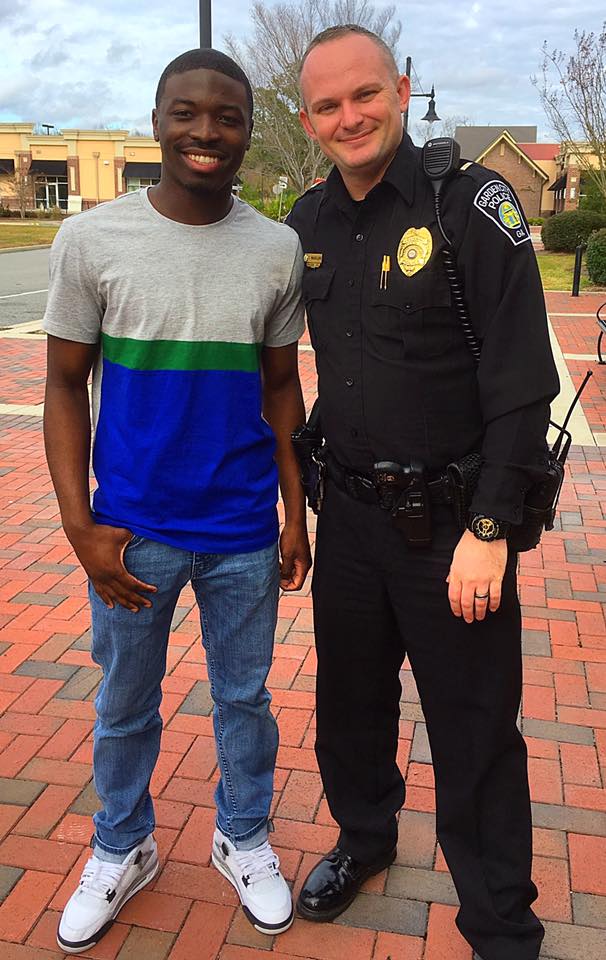 Have you ever heard of Tim McMillan? I had not until a couple of weeks ago. He is a police officer in Georgia. He is an ordinary guy in a lot of ways. He even describes himself in this way,
"My life has been a chaotic jumble of accidents, ambitions, failures and unintended consequences. Through all of that I have discovered connections that have illuminated the world and revealed its infinite mystery. God is within us all, and therefore none of us are more important than all of us. I never wanted to be a police officer growing up. I wanted to be an astronomer, or psychologist. I love solving mysteries and no mystery is greater than the human mind and space.
In July of 2002, two of my friends were murdered during a robbery. I said 'There are two kinds of people in this world, those who say someone needs to do something and those who say I am going to do something.' I chose to be the later, and at 21 years old I became a police officer. "
He created a little buzz on Facebook back in October when posted story about an encounter he had while he was on patrol.
"I pulled a car over last night for texting and driving. When I went to talk to the driver, I found a young black male, who was looking at me like he was absolutely terrified with his hands up. He said, "What do you want me to do officer?" His voice was quivering. He was genuinely scared. 

I just looked at him for a moment, because what I was seeing made me sad. I said, "I just don't want you to get hurt."
In which he replied, with his voice still shaking, "Do you want me to get out of the car."

I said, "No, I don't want you to text and drive. I don't want you to get in a wreck. I want your mom to always have her baby boy. I want you to grow up and be somebody. I don't even want to write you a ticket. Just please pay attention, and put the phone down. I just don't want you to get hurt." 
I truly don't even care who's fault it is that young man was so scared to have a police officer at his window. Blame the media, blame bad cops, blame protestors, or Colin Kaepernick if you want. It doesn't matter to me who's to blame. I just wish somebody would fix it."
He saw the fear and trepidation first hand and it (rightly so) upset him. I can't help but think of the words of Jesus when He said, "You know that the rulers of the Gentiles lord it over them, and their high officials exercise authority over them. Not so with you. Instead, whoever wants to become great among you must be your servant…" Matthew 20:25b-26
He is a servant… a public servant. Instead of being embolden by the power he held over that young man, it upset him. Instead of seeing the power he held as something to wielded, Officer McMillan wants to break down the barriers that separate people. That specifically includes racial barriers. Last Sunday I talked about process of God refining his people. As a silversmith skims of the impurities of precious metals, God wants to skim off anything inside of us that seeks separate us from loving God and loving our neighbor. Tim McMillan is living that out.
In this extremely polarized season of our country's history. It is refreshing to see that there are some who refuse to buy into the idea of "that's just the way it is."
Tim is quoted as saying, "We don't need to treat people the way they want to be treated…instead treat people the way we want others to treat our children."
 All I can say to that is, "Amen."
God bless,
Pr. Ben