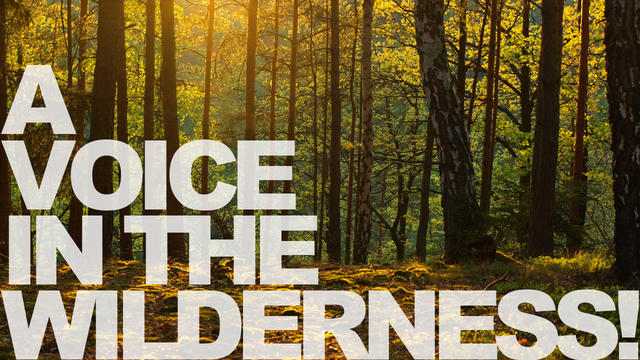 Advent isn't complete in the Lutheran world if there isn't at least one mention of John the Baptist. What's funny about that is this: John the Baptist has nothing to do with the birth of Jesus yet he always seems to make an appearance in Advent. Sure, there is the story in Luke that points to the fact that they are loosely related but ultimately John the Baptist has nothing do with the birth of Jesus (Spoiler Alert: John the Baptist was not in Bethlehem on the night of Jesus' birth).
Although I am not preaching on John the Baptist this year, I am giving him a shout out here (I feel obligated to do so, otherwise it is not really Advent).
Most years we hear John announcing that the Messiah (the Savior) is about to arrive and people should get ready. Often this paired with a prophecy from Isaiah 40. Here is that prophecy:
A voice of one calling:
"In the desert prepare the way for the Lord;
make straight in the wilderness
a highway for our God.
           Every valley shall be raised up,
every mountain and hill made low;
the rough ground shall become level,
the rugged places a plain.
            And the glory of the Lord will be revealed,
and all mankind together will see it. For the mouth of the
Lord has spoken."
            A voice says, "Cry out."
And I said, "What shall I cry?"
"All men are like grass,
and all their glory is like the flowers of the field.
            The grass withers and the flowers fall,
because the breath of the Lord blows on them.
Surely the people are grass.
            The grass withers and the flowers fall,
but the word of our God stands forever." 
Not all of this ends up in the gospel story about John the Baptist (just the first part) but I find it interesting and thought provoking.
I mentioned the first part to the children at church last Sunday. When a king comes to visit a town would spend money on capital improvements. After all you want to put your best foot forward.  You fix the roads so that as the king's carriage comes to town, he has a smooth ride.
But in this case, it ain't Santa Claus who is coming to town… it is God.
It makes sense to get ready for God's arrival. Not with a fresh coat of paint or filling potholes with asphalt… but by readying your heart (that's what Advent is for).
The "voice" who is to announce God's coming in Isaiah 40 asks a great question, "What shall I cry?" (As in, I am the town crier who brings late breaking news to a community.)
God's reply is most interesting. (Scroll back up and read it. I'll wait.)
Tell the people they are like grass. Here one day and gone the next. Grass may have a season of green, but it will eventually turn brown. It is as if God is saying, "Just so you know, people are not steadfast and do not have longevity, but I Am and I do."
Wow. We are like grass. God is not. The best of us are like lilies that only last a few weeks at most and God is the gardener.
When we put our trust in anyone but God, we are putting our trust in someone who is like us: temporary, fallible and in need of God's mercy and grace—myself included.
I can't help but look at the headlines and think—what a bunch of dried up grass. Today a Senator resigned over sexual harassment allegations, a Representative from Arizona just announced his resignation over the same issue this evening (Thursday). As you know these aren't isolated incidents.
The point is this, these people are our leaders and they (in a general way) represent us. Yet they are grass too and for some the grass is no longer green. It is disheartening but it is a reminder to me that I need to look somewhere else for leadership in my life.
I guess more than ever, I need John the Baptist to be calling out and telling me someone better is coming and his Name is above every name. His name is Jesus and He is a leader I can look up to and He will never disappoint. And when I let Him down, I can go to Him and ask for forgiveness. He will pardon anyone who asks.
Jesus is my favorite King and I want to live under His rule.
God bless,
Pr. Ben