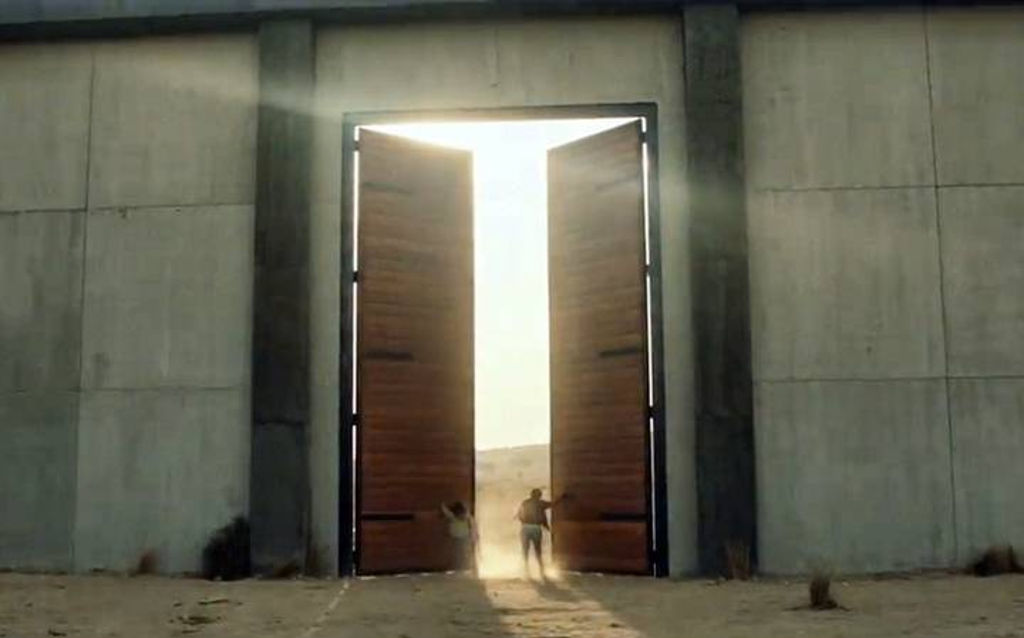 …remember that at that time you were separate from Christ, excluded from citizenship in Israel and foreigners to the covenants of the promise, without hope and without God in the world. But now in Christ Jesus you who once were far away have been brought near through the blood of Christ. 
For he himself is our peace, who has made the two one and has destroyed the barrier, the dividing wall of hostility, by abolishing in his flesh the law with its commandments and regulations. His purpose was to create in himself one new person out of the two, thus making peace, and in this one body to reconcile both of them to God through the cross, by which he put to death their hostility. He came and preached peace to you who were far away and peace to those who were near. For through him we both have access to the Father by one Spirit. 
Consequently, you are no longer foreigners and aliens, but fellow citizens with God's people and members of God's household, built on the foundation of the apostles and prophets, with Christ Jesus himself as the chief cornerstone. In him the whole building is joined together and rises to become a holy temple in the Lord. And in him you too are being built together to become a dwelling in which God lives by his Spirit. Ephesians 4:12-22
What a beautiful thought conveyed by St. Paul in his letter to the church he started in Ephesus so many years ago. Recently my wife, Mrs. Pr. Ben (aka Rachel) read this passage to me after church one Sunday.  We were struck by the language that Paul used to describe our human condition and God's solution to our isolation. I am sure it is not lost on you that some of these same words are being used today as our nation continues to struggle with the issues surrounding immigration.
Paul reminded the non-Jewish believers of the church he started in Ephesus were once foreigners and they did not possess citizenship within the Kingdom of God. Only the people of Israel were a part of God's family and kingdom. Up until the time of Jesus there was an "immigration ban" on entering the Kingdom of God. There was a spiritual "barrier" even a "wall of hostility" that prevented anyone outside of Israel from drawing close to God.
Everyone who is not Jewish is a gentile. All gentiles (in Hebrew the word is "goyim") were on the outside looking in. Even if they wanted to be Jewish, they could not. There was a spiritual barrier between God 's chosen people and everyone else. This caused conflict and hostility to the point that it felt like there was wall that could not be scaled.
In God's story of humanity there were only 2 nations: Israel (the people of God) and everyone else. Essentially, the borders were closed and there was a ban on immigration. Only those born in that spiritual nation could be residents.
The problem is that God doesn't like walls or barriers even if the people of God do. Instead of reinforcing the walls or building them higher, God did something amazing.  God tore down the wall and built a bridge. The bridge's name was Jesus.
Instead of having a group of insiders and a group of outsiders God decided that there would only be insiders. Instead of having citizens and aliens/foreigners there would only be residents of the Kingdom of God. There was no screening to see if someone was well-intentioned because God knows that no one is worthy. Everyone was and still is welcome.
On that spring day two-thousand years ago, Jesus died on the cross so that the borders to His Kingdom may be opened to all who wish to enter.
Let us welcome those who enter His embassy (the church) seeking sanctuary and refuge. I know that when I come to church on Sunday morning, I sometimes feel like a refugee fleeing the terror of this world so that I may find a safe place to rest.
God bless,
Pr. Ben