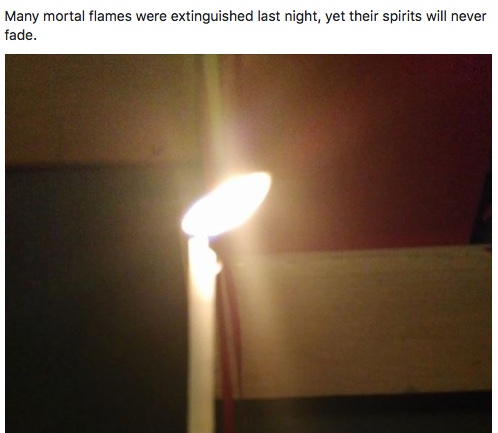 As most of you know, I am one of the directors of a summer camp experience called Leadership Lab. 17 years ago, my youth director and I took a group of youth from Las Vegas to Leadership Lab. Ever since then, students and staff continue to come to Leadership Lab for a week of faith development and inspiration. Selfishly, I am proud of the legacy of that decision to drag students halfway across the country to attend the summer camp that I have been a part of since 1985.
One of those students, Keri Ann Triunfo wrote this after the tragedy in Las Vegas this past week…
Early this morning, in the wake of tragedy, I went outside to see an orange sky. The wind blew with harsh determination, causing the air to feel cold. It was as if nature itself was in mourning, and I couldn't help but feel as if God was angry.
When suffering strikes our nation like it did last night, it's easy for some of us to believe that God is punishing us. That he has taken up his hand against us in wrath and vengeance, like Sodom and Gomorrah. Las Vegas especially, has been likened to that ancient city by some. But those people don't take into account the innocent women and children exploited here. Where is their justice? Why are they punished? They don't take into account the brothers and sisters in Christ who are faithfully serving the Lord with their families and churches in this city. No, this massacre was not an act of God. 
The God we serve sent his son Jesus to us, to become a part of humanity. To share in our weaknesses. To feel our pain. To feel sorrow, frustration, fear, joy, love, and even to experience death. Matthew 5:45 tells us that The Lord makes the sun rise and rain fall on both the just and the unjust. Truth be told, bad things happen because our world is broken at the seams. We are broken people. But our Father has not abandoned us.
When these things happen, it's important for us to remember that the function of the Holy Spirit, is to be our Helper. Our comforter, advocate, intercessor, counselor, and strength. 
In these times of despair and uncertainty, I urge you to remember that our God is not one of wrath, but of compassion, mercy, and love.
So, when I say that I feel God's anger, I believe it is his empathy on our behalf. I believe he is beside the families, and loved ones of those whose lives were needlessly taken in a moment. I believe he is with the first responders and off duty authorities that risked their lives to protect civilians. He is with the civilians that dove into harm's way to protect the people beside them, and assist the wounded. He is with the ones that had to watch in horror as countless others were killed or maimed before their eyes. God is here amidst the heartbreak and fear, sharing once again in our sorrows, and in our frustration
Romans 8:38-39 For I am persuaded, that neither death, nor life, nor angels, nor principalities, nor powers, nor things present, nor things to come,nor height, nor depth, nor any other creature, shall be able to separate us from the love of God, which is in Christ Jesus our Lord.
Very moving, very thoughtful and very faithful. Please keep all people affected by gun violence in your prayers, including the people of Las Vegas and beyond.
God bless,
Pr. Ben