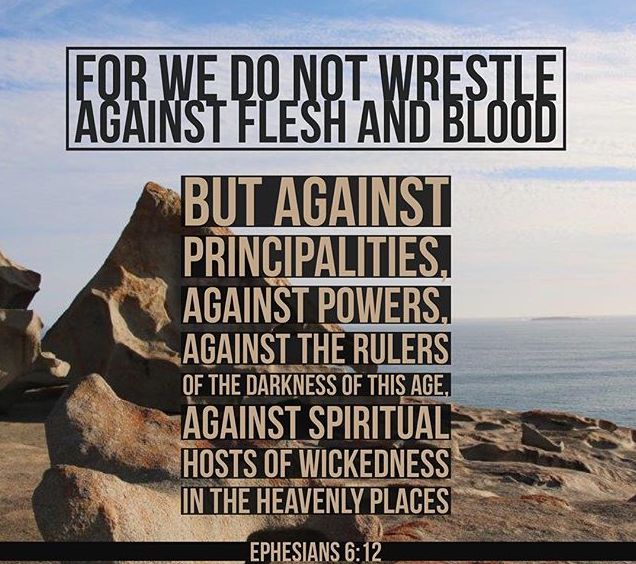 Finally, be strong in the Lord and in his mighty power. Put on the full armor of God, so that you can take your stand against the devil's schemes. For our struggle is not against flesh and blood, but against the rulers, against the authorities, against the powers of this dark world and against the spiritual forces of evil in the heavenly realms. Ephesians 6:10-12
 These are the kind of verses that Lutherans don't talk about very often. As a matter of fact, they tend to avoid them. Why? I think there is a general discomfort talking about the devil. Why? I don't know.
Jesus acknowledged there is more than human evil in the world. Do we believe the words that come from the lips of Jesus? I certainly do. By the way, this is a slippery slope. When we start doubting the words of Jesus, where does it end? Soon, we could be doubting the resurrection and Jesus' identity as the Son of God. As far as I am concerned, there is more than human evil in the world. There is a devil and demons. I trust Jesus on this one.
Of course, the danger in acknowledging the devil is that we start to blame our own bad behavior on him instead of taking responsibility for own actions. We are really good at the blame game. "The devil made me do it." Or, "I wouldn't have done this if that wouldn't have happened, it isn't my fault because I didn't start it."
In Ephesians, St. Paul accepts the fact that there is a devil too. He goes on to write that our real opposition is not from humans (flesh and blood). Then he goes on to name that rulers, authorities, powers and spiritual forces of evil are the real enemy. In English, one might assume that rulers, authorities and powers could be of human origin. That is a fair assumption. However, in Greek (the language it Ephesians was originally written in) those three titles have a spiritual (evil) component.
What does this mean to us? Doesn't this seem overly dramatic? I am not so sure. Just as Christ has great interest and is active in our world, so is evil. As God brings love and harmony, the devil sows hate, discord and chaos. It seems to me there is evidence of hate, discord and chaos in our world. We don't need to go beyond our borders to see that. By denying that evil is active in the world, we give it free reign.
What is our response to all of this? St. Paul tells us to stand firm. He goes to use the imagery of wearing the "armor of God" which is: truth, righteousness, peace (of Christ), faith and the word of God.
Here is where we find strength:
Truth—naming evil when we see it and naming good when it is present.
Righteousness—knowing we are made righteous by Christ and are in relationship with Him.
Peace—we don't fight fire with fire. We fight fire with the waters of baptism.
Faith—we trust Christ for all things and not in ourselves.
Word of God—The book that show us that love wins in the end.
Open your eyes and stand firm!
God bless,
Pr. Ben