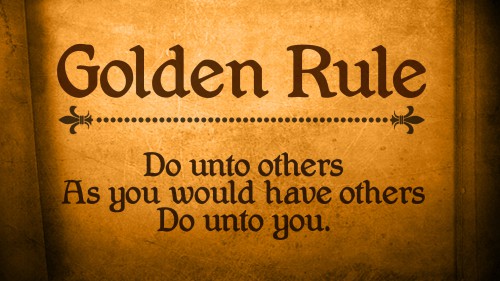 "And the second is like it: 'Love your neighbor as yourself.'"- Jesus (Matthew 22:39)
"So in everything, do to others what you would have them do to you, for this sums up the Law and the Prophets." –Jesus (Matthew 7:12)
I know that you know these verses. I also know that some of you are tired of me talking about one them. If you are one of those people, I promise you I will stop talking and writing about these verses as soon as I figure out how to do them. This may be more of a reminder to me than to you.
The first verse comes from "The Great Commandment" in Matthew 22. A teacher of the Law asked Jesus the most important teachings of the Hebrew Bible. Jesus said, "Love God and love your neighbor."
The second verse comes from the greatest sermon ever preached, "The Sermon on the Mount." Most Christians refer to this verse as "The Golden Rule." I was curious as to why it is called "The Golden Rule" and I discovered that the phrase was coined by an Anglican pastor from the 1600s. The name stuck.
One might think that Jesus was originator of the verse but he was not. Variations of this phrase predate Jesus. For example, a parchment from Ancient Egypt states, "That which you hate to be done to you, do not do to another." That parchment dates to around 600BC.
Do not let that upset you. Just because Jesus didn't say it first doesn't mean Jesus was plagiarizing. He affirms that these words hold spiritual truth. Clearly, God sprinkled this eternal teaching among the nations of the world at different times. Jesus affirms that this teaching reflects the heart of God.
What surprises me is that Jesus tells us (in both verses quoted above) that the entirety of the Old Testament (Hebrew Bible) can be summed up in these two verses. Jesus does not say that about any of his other teachings. Jesus gives us an early version of "Cliffs Notes!" (I may or may not have used "Cliffs Notes" once in college but never in seminary!)
Jesus tells us to treat people the way we want to be treated. That's straightforward enough. Yet the prevailing mindset is "do unto others before they do it unto you." That's not what he said! Everything that the Law of Moses teaches and the prophets preached point to this reality: be good to each other- but do not let that action be dependent upon the other person. No "quid pro quo" allowed!
Just in case we didn't understand Jesus' intention in "The Golden Rule" he comes back to this again when he tells us we should love our neighbor as ourselves. Once again, Jesus says that this is a summary of the Law and the prophets (the Old Testament). When Jesus tells us to "love" we need to ask ourselves, "What kind of love are you talking about Jesus?" (Ask this question out loud right now.) I am glad you asked!
We only have one word for love. The ancient Greek (the New Testament was written in Greek) had four different words for love depending upon the relationship. The love mentioned here is unconditional love. The kind of love that sees beyond the outer surface and overlooks faults, blemishes and shortcomings. This kind of love is all about sacrifice as well as giving and expecting nothing in return.
That doesn't mean we allow people to use us as a doormat or that we can't set healthy relational boundaries. It does mean that we should be loving when we need to do such things.
Yes, unconditional love is a hard thing especially when we do not agree with a person or when their attitude and actions are less than admirable. Let us not forget that Jesus does this every day. His unconditional love is what allow us to be the children of God.
God bless,
Pr. Ben