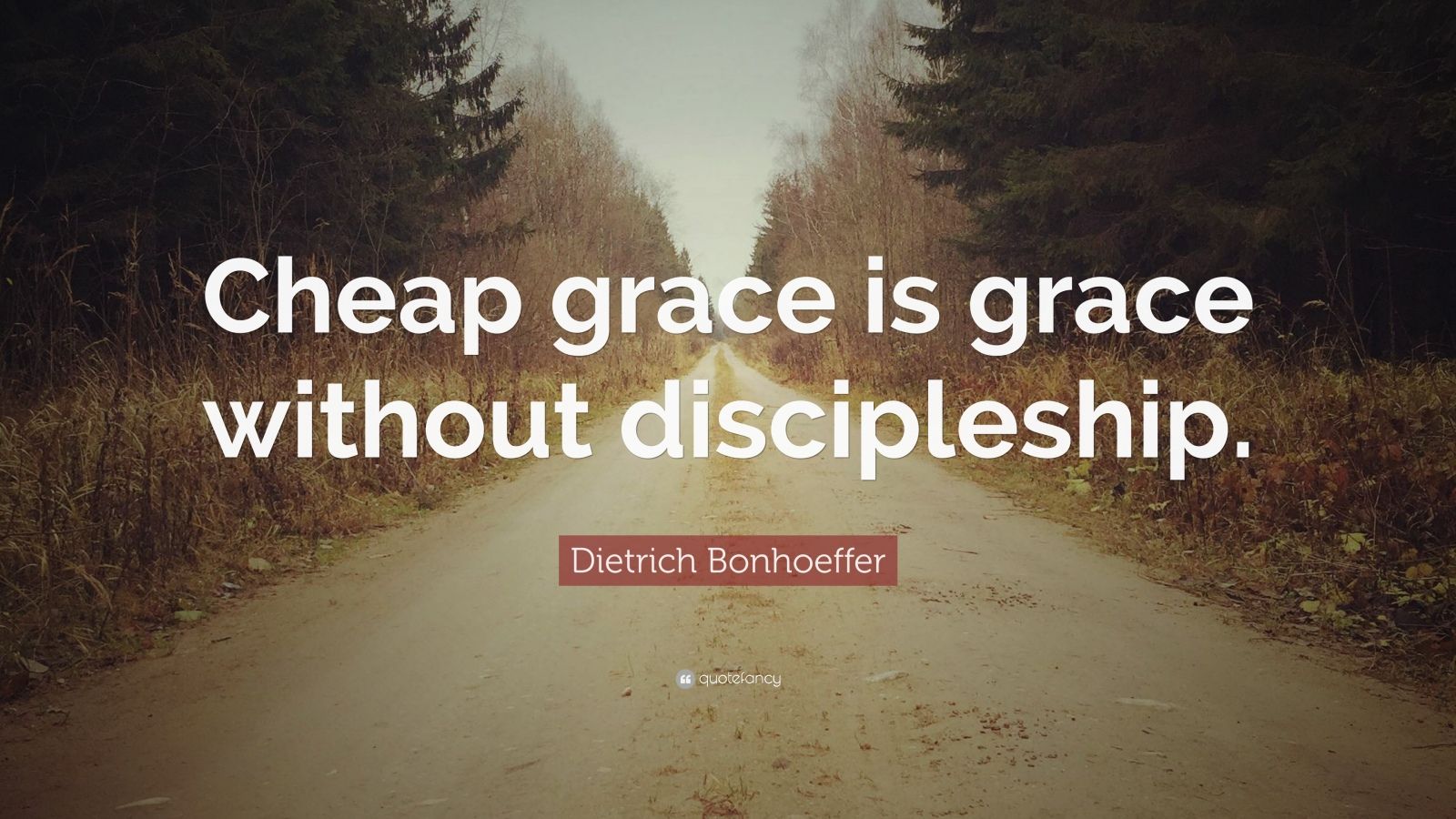 Occasionally I read an article that is too good not to share. This is one of those articles.  I hope you find it as meaningful as I do.
It is entitled, "What is Cheap Grace? by Andy Gill.
There's so many different forms of grace: Hyper-grace, free grace, costly grace, and then there's what we're discussing here today, cheap grace or, cheapened grace.
 What is Cheap Grace?
Cheapened grace, similar to cheapening or watering down the gospel is what happens when we water down the message of Christs to make it a bit more "palatable."
This term is usually attributed to Dietrich Bonhoeffer as many recognize it from his influential book, The Cost of Discipleship.
Bonhoeffer defined "cheap grace" as "the preaching of forgiveness without requiring repentance, baptism without church discipline. Communion without confession. Cheap grace is grace without discipleship, grace without the cross, grace without Jesus Christ."
Bonhoeffer goes on to say, cheap grace is to hear the life of Christ preached as follows: "Of course you have sinned, but now everything is forgiven, so you can stay as you are and enjoy the consolations of forgiveness."
It takes the teachings of Christ's and re-accommodates them to fit the comforts and desires of society.
Essentially, it was the birth of a consumeristic version of Christianity. 
It's pseudo spirituality; a lie packaged in the form of the gospel.
It's the same concept as marketing companies telling you that their fast food chain is healthy;
it's the same psychological strategies used to manipulate our behaviors in order that we continuously consume their products.
With pharmaceutical companies admitting to knowing their products were addictive to corporations purposely creating products to be addictive (e.g. Starbucks, reward programs, video games, porn, smartphones, etc)… it's a constant battle against these "powers" to take back control of our own behaviors and to re-infuse meaning into our daily schedules.
If the grace you're receiving doesn't lead to a transformation then it's safe to say that what you received quite possibly may have been cheapened.
 The Cost of Cheap Grace…
You can't find meaning if you're constantly numbing.
We live in a world that seems to be becoming more and more vacant of meaning or significance. Said another way, maybe it's not that our world is becoming vacant of meaning so much as it's becoming inundated with so many meaningless things.
In Bonhoeffer's definition of cheap grace, we see the lack of value and/or meaning being stripped from Christianity [that is without cost]. This leads us into a meaningless faith.
There is no such thing as meaning without cost; similarly, there is no such thing as Christianity without cost.
In the words of writer Stephen Mattson, "Consumerism drives us towards a selfish lifestyle of safety, comfort, and privilege. But Christianity is meant to point us selflessly to the cross, where Jesus was persecuted, publicly humiliated, abandoned by his friends, and tortured to death — penniless, homeless, and apparently defeated."
Meaninglessness, this is the cost of a cheapened form of grace. We're so far convinced that this falsified version of Jesus is the answer to all of our problems that we're lead into a life of complicit laziness.
Cheapened grace, in my opinion, becomes a sociopathic form of grace when we recognized cheapened grace and yet, continued to disregard our call to change.
"What shall we say then? Are we to continue in sin that grace may abound? By no means! How can we who died to sin still live in it?" – Apostle Paul (Romans 6:1-2)
It's a complete misunderstanding of what salvation is. Salvation is not the avoidance of hell; neither is it the entrance into heaven. Salvation is a transformation in the here and now.
We live in a world in which has completely normalized selfishness. It's taken unhealthy lifestyles and marketed them as the answer to our problems. We've become convinced out of fear that unless we selfishly hoard, save, and protect ourselves by keeping others out and down that we're in danger of not "living our best life".
The gospel, in my opinion, is counter-cultural. It's not driven by fear but it's lead by love.